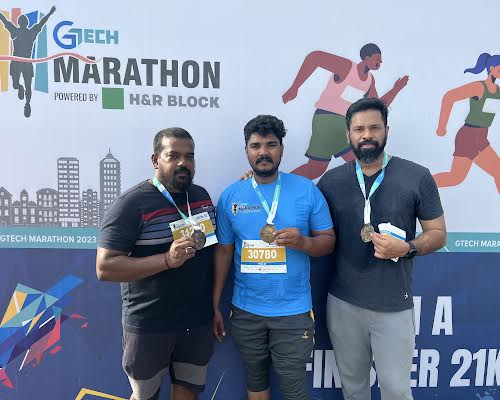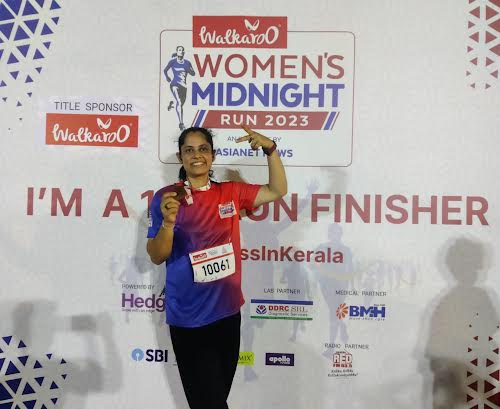 Employees of Founding Minds, Saritha MN, Aswathy Moodadi, Visal SV, Vishnu Rajendran and Kishore SS have made their mark in marathon events across Kerala, showcasing their remarkable determination and passion for running.
Saritha MN, a dedicated participant from Founding Minds, achieved an impressive feat by completing the challenging Kochi Marathon, held on May 1st, 2023. Her unwavering spirit and perseverance were evident as she conquered the demanding course, earning admiration from fellow runners and spectators alike. On May 27th, 2023, Saritha MN continued to push her limits by completing the gruelling 10-kilometre Midnight Marathon in Calicut, Kerala. Her dedication and commitment to excellence were displayed as she crossed the finish line, adding another remarkable achievement to her running journey.
In addition, Aswathy Moodadi, an enthusiastic newcomer to the world of marathons, embarked on her running journey by participating in Kochi Marathon on May 1st. Her commitment to personal growth and willingness to embrace challenges were evident as she took her first strides towards becoming an accomplished runner.
Not to be outdone, Visal SV, Vishnu Rajendran and Kishore SS demonstrated their athletic prowess by participating in a marathon event held in Trivandrum on 19th March 2023. Their dedication to fitness and passion for running was evident as they crossed the finish line, leaving an impression on the running community.
The exceptional achievements of Saritha MN, Aswathy Moodadi, Visal SV, Vishu Rajendran and Kishore SS reflect the values Founding Minds cherished, including promoting a culture of health, well-being, and personal growth among its employees. The company takes great pride in supporting its employees' pursuit of their passions and encourages participation in community events that promote an active lifestyle.
As these employees return to their roles at Founding Minds Software, they carry the invaluable experiences gained from their marathon endeavours. The perseverance, determination, and teamwork acquired during their training and participation will undoubtedly contribute to their continued personal and professional success.
Founding Minds extends heartfelt congratulations to Saritha MN, Aswathy Moodadi, Visal SV, Vishnu Rajendran and Kishore SS for their dedication and accomplishments in their respective races. The company wishes them continued success in their future athletic pursuits.